The "High-frequency Active Auroral Research Program" - otherwise known as HARRP - is a weather-control experiment that may pose a serious threat to the atmosphere and environment (211).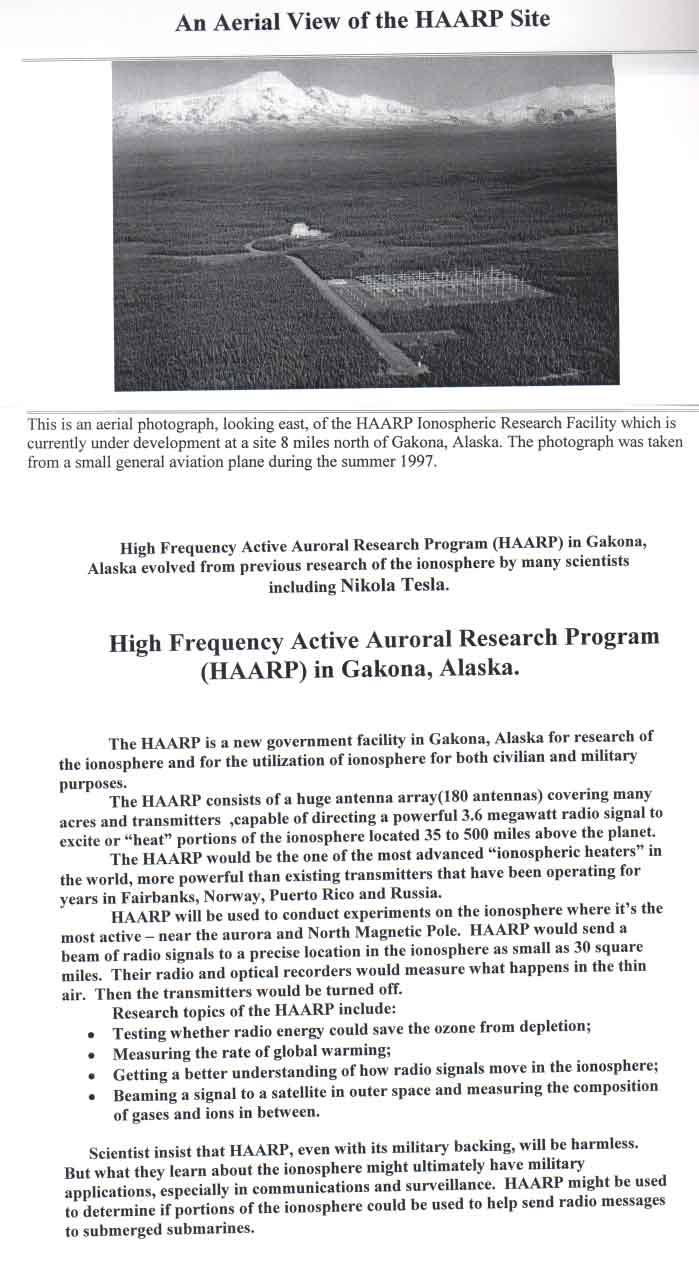 Cold Spring Harbor also has the copywrite to HARRP's website. (211) - this is the wrong number and i can't find this in your book.


Another "weather modification" experiment is the "Welsbach seeding" patent, held by Hughes Aircraft Company, supposedly invented to reduce global warming, it actually provides a cover for spreading aluminum oxide into the air in massive quantities "via the jet fuel" - what some people call "chemtrails."(212)


One researcher speculated that the aluminum particles could be used in tandem with HARRP to modify the weather. (212) - i don't know what this is.


Another writer suggested a more "population control" application - that the chemtrails could attract sky-dwelling viruses, fungi and bacteria that feed off aluminum (and are too small to fall to the ground) and "drag" them down to be breathed in by us. (213) Aluminum itself weakens the immune system when ingested or breathed-in. More population control? The "authorities" refuse to answer the chemtrail-activist's questions.


Albert D. Wheelon - a member of Rockefellers Council on Foreign Relations, runs Hughes. (214)

Albert D. Wheelon - a member of Rockefellers Council on Foreign Relations, runs Hughes. (214)


These notes are all messed up
(211) "Death in the Air" pp. 299, 310-321,

(212) ibid, pp. 160-161

(213) ibid, p. 169

(214) www.namebase.org/sources/HY.html - See also "Rule by Secrecy" pp. 32-34

http://changingplanet.supremalex.org/skywatch/chem/